Anna's Clinic
Anna Evans, LMT is a highly-experienced massage therapist and yoga instructor who has been part of the Virtue Medicine story from its very beginnings in 2009, both as an executive assistant and in the care of our clients who are working on their health and well-being goals.
Anna specializes in deep listening to the places in body and mind that are holding tension, inviting her clients to explore a variety of techniques that they find of interest and help, including massage therapy, Reiki, energy work, guided visualization, meditation support, breath work, and mindfulness. 
Whether it's time to disconnect from the urgency of the world, or welcoming oneself back into safe space of your internal "home," Anna is a guide for that process with a variety of tools to help access and sustain a deeper state of relaxation and peace.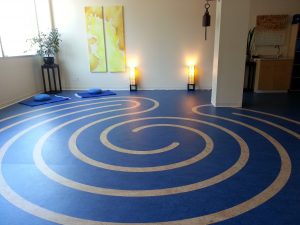 Virtue Medicine is very pleased to be bringing Anna's massage therapy services to our large and airy 750 s.f. labyrinth studio just-in-time for the heightened care needs in our community.
Our studio space has a commercial grade HVAC system with new filters replaced every year in September. We are following professional standards for optimizing safety in health care environments, and are asking our clients to participate fully in helping maintain both physical and emotional safety for everyone.
Each service is tailored to meet you where ever you are. Brand new beginner, curious learner, or drawn to explore new ways for body-mind health and healing, you are welcome here.   
NEW CLIENT CONTACT FORM


Massage in Virtue Medicine Studio
Pulling from eastern and western body and energy work traditions, Anna's experienced massage therapy offers an integrative approach, meeting each client wherever they are in their healing journey, and honoring the body and mind's ability to create sacred and quiet spaces within. Using gentle touch and verbal cues to guide the body and mind to relax, this work with Anna supports peace, well-being and more space for movement with ease.


Meditation Instruction by Private Zoom
Mindfulness based and visualization meditation techniques for well being. Offering guided meditation and instruction in cultivating a mindful meditation practice for individuals and groups, both at home and in professional spaces. Her support and teaching brings the compassionate practice of "coming to our senses", with stress relief, self care, connecting to body and heart, relaxation, with particular attention to rejuvenation from and connection, particularly during times of depletion and demoralization.



Holding Space Groups by Private Zoom
Anna has developed a number of ways to "hold space" in togetherness from her training and life experience. Groups of 3-6 people who wish to share time in community while practicing social distancing can participate together via Anna's private Zoom invitations in creative connection, including sacred circle, meditation, movement, rituals, optional sharing, and conversation with the intention of holding the steadiness of thriving togetherness even in times of social upheaval.